CLICK IMAGE
FOR A FREE
SAMPLE FROM
THIS BOOK!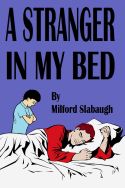 To Buy the Book, CLICK HERE
A STRANGER IN MY BED
PRICE: $5.00

Fourteen short stories and the six-chapter "The Vermont Dovers" with twenty illustrations culled from my archives and chosen for their appropriateness on the story in question (I did my best!) As opposed to the books of stories written for fans when I write to their specifications, these are all the pure, unadulterated stories of my own from my famously dirty mind.

The stories in this book are:

A Stranger in My Bed--Eddie is a third wheel on his mom and dad's second honeymoon and has his own motel room. He wakes up the next morning to find a naked young man sleeping in the bed beside him. The man had been drunk the night before and stumbled into the wrong room (Mom didn't think to lock the door), but our hero feels sorry for the hungover man and invites him to stay with him while his clothes dry out (covered in vomit, he had to wash them out in the bathtub), and this man knows a great way to get over a hangover is to have some hot sex with a cute young boy.

A Virgin in the House--Our thirteen-year-old's older brother calls him a virgin, which he is incensed about and denies it. Called upon to prove it by showing his seduction technique to the big brother, he succeeds in bedding the twenty-year-old brother; it seems our hero knows all there is to know about sex with guys!

Burgled--A burglar breaks into an apartment supposed to be empty, only to find a young boy alone there and nothing to steal. He's determined to get something for his trouble, so he settles for stealing the boy's virginity with unexpected results.

Darkness--A hunky construction man and his young son are living with his new wife in the basement of her parent's house, when the power goes out in the neighborhood plunging them into full darkness. He'd rather sit in pitch darkness than upstairs with the in-laws and his young son gets very curious in the dark with his hunky daddy.

Collateral--Mort's dad owes Guido a lot of money for gambling debts and Guido gives him a week's grace period in exchange for collateral--his son Mort. Turns out Guido would rather keep the cute boy instead of getting the money and Mort's life with Dad is so bad, he'd rather stay with hunky Guido and ride his hard cock every night.

Grounded!--Eighteen-year-old brother Neill is mortified to be grounded by his mother because he wrecked her car when drunk and little brother Zeke (who Neill is to babysit while Mom works) is named to watch and make sure he stays grounded. He and his buddy Frank make the best of the situation and when Zeke figures out Neill and Frank play with each other's cocks every now and then, he wants in on the action and soon is servicing both older boys non-stop.

Sarge's Birthday Present--Our hero is a sergeant in the Army in the Pacific during World War II's final days and for his birthday, the squad pay a local madam to send over her finest virgin for Sarge to enjoy. What she sends over is a young boy, half-Japanese born to one of the prostitutes, and he has been sent to lose his virginity to Sarge or be beaten for his failure. What's a decent man to do in a case like that but take the boy into his bed and enjoy popping his cherries.

Married to Daddy--When brawny hulk Gordon married young Caleb's mother, he gave Caleb a ring as well and "daddy-son married" him along with his Mom. Everyone thinks it's just a nice gesture for a man to make when marrying a widow, but when the mom turns up pregnant and unable to satisfy Gordon's nightly lusts, he goes to Caleb and takes his pleausre there instead, after all, he married the kid, didn't he?

Sleepover Blackmail--Harlan's older brother Lyle and his lifetime buddy Conrad are having a sleepover so they can attend an away football game the next day, but when Harlan crashes the bed they are sharing that night, he finds that these two hunks have been playing with each other's cocks for a long time, and he wants to find out what sucking a man's cock is like. Conrad is more than ready to let the boy slurp on his pud, but Lyle is more hesitant...but not for long.

Sticky Dick--Harley's Daddy is a man who needs his fix of sex every night and when Mom turns him down, he goes into Harley's room and uses Mom's own sex-juices to lubricate Harley's ass so he can keep on fucking.

The Christmas Ornament--Richmond's great-uncle Jake has passed down to him a family treasure they've held for centuries, a small Christmas ornament of an Irish soldier of the past. Richmond hangs the ornament on their tree and is visited by Patrick, who has been enchanted by the Old Folks thus so he can guard Richmond's family, but is happy to give Richmond some good loving while he's still flesh-and-blood every Christmas season. Then one year, Richmond breaks the ornament....

The Lord's Pageboy Comes Home--Grimmon's son Piotr was selected by the Duke to be his personal pageboy and gone to live in the ducal manor but one year, he is allowed to come visit his father and his dying mother, and is happy to show his father all the games in bed the Duke has taught him.

The Morning After Guy--Mom has gone out for New Year's Day but she left behind a bewildered and still horny Marine who she had slept with the night before. This jarhead is determined to have plenty of sex before he ships out and is willing to take it with her young son who she left alone for the day.

We Are the Champions--He is the coach of a Little League team who is out to celebrate their victory that night by jumping into Coach's bed and giving him the time of his life. The man has always craved the love of a cute boy but had fought it off, but these boys saw it and were giving him what he'd always secretly wanted.

The Vermont Dovers--A six-part series following the lives and fortunes of the Dover family living in Vermont, there is John, the widowed high-powered executive, his younger ski-instructor stud Peter, and John's two young sons, John, Jr. and Charles. Peter returns to the family home to recover financially and incidentally to become the two boy's new caretaker, but these boys are very sexually precocious and it turns out that runs in the family! We follow them from the day Uncle Peter arrives through a special Thanksgiving when John, Jr. is nineteen and just discovered he has been "spurgled" into being a new father. A second series in this will cover the next generation of this family of hunky horny men and boys.

You can pay for this book by using your credit card. To Buy the Book, CLICK HERE
Or you can pay for this book by sending cash (US Dollars, sorry, I can't accept foreign currency, money orders or checks for this small an amount) to:

Milford Slabaugh
4601 Lexington Avenue, Apt. 208
Los Angeles, California 90029

You can e-mail me as well when you mail it and I'll be watching for the payment, and be sure to provide me with an e-mail address for sending you the book.