CLICK IMAGE
FOR A FREE
SAMPLE FROM
THIS BOOK!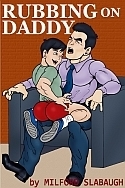 To Buy the Book, CLICK HERE
RUBBING ON DADDY
PRICE: $4.00

This book is a compilation of the stories I wrote for one fan on a commission basis, all of these involve daddies having sex with their young sons, with an emphasis on frottage among other specific fantasies of this fan. The average reader should find plenty in here to satisfy his own cravings for dad/son sex. There are 12 all-new stories here (15 in all, but three of them have been published before in other books of mine and the fan asked for two sequels and one story to be expanded to double-width). There are two illustrations, one of which is also in the "Okay, Who's Next?" book with the story which turned out to be the first installment of the adventures of that dad/son pairing. The stories, too, are extra long with multiple sex scenes, so you should find each story offers more than one masturbation fantasy for your eager hand.

This eBook is in PDF format. Delivery of the eBook is by e-mail upon receipt of confirmation of payment from Paypal. Please allow up to 24 hours for delivery; I'll send the eBook as soon as I can, but I'm a single person doing this, and I also work a full-time job. If you don't get the book by then, first check your Spam folder, or write me again with a different e-mail address I can use.

PAYMENT BY CREDIT CARD
CLICK HERE
Or you can pay for this book by sending cash (sorry, I can't accept money orders or checks for this small an amount) to:

Milford Slabaugh
4601 Lexington Avenue, Apt. 208
Los Angeles, California 90029

You can e-mail me as well when you mail it and I'll be watching for the payment, and be sure to provide me with an e-mail address for sending you the book.