CLICK IMAGE
TO LOOK
INSIDE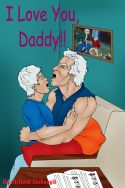 I LOVE YOU, DADDY!
PRICE: $5.00
Thirty-one short stories (with illustrations on fifteen of them), all about boys who love their Daddies and love them well! This collection includes all fifteen of my stories written from the Daddy's viewpoint, and eight of these stories involve an adult (or higher teens in age) son. But if you're looking for young boys having fun with Daddy, don't worry, most of these stories involve younger boys regardless of who's telling the story. So it's a wide variety of father/son stories here, and both Daddy and Son end up very satisfied and happy.

The stories in this book are:

Daddy on the Webcam
Don't Wake Daddy!
My Little Nudist
Like Icarus
A Night Talk
Am I Doing it Right, Daddy?
Daddy's on Leave
The Fabulous Fitzpatrick Family Featherbed
Something to Play with
Both My Dads, Part One
Both My Dads, Part Two
Giving Ritchie a Bath
Bedtime Moves
Make Room for Daddy
The Right Choice
I Want to Stay with Daddy!
The Punishment of Duke Victus
The Storm
Daddy Works the Night Shift
Getting Baby to Sleep
Chains of Love, Part One
Chains of Love, Part Two
The Monster under the Bed
The Accursed Castle
Daddy's Other Woman
Temple Duty
How to Make a Pervert in Three Easy Lessons
Touch Football
Climbing Mount Daddy
Two Bats
The Day They Changed the Law

This eBook is in PDF format. Delivery of the eBook is by e-mail upon receipt of confirmation of payment. Please allow up to 24 hours for delivery; I'll send the eBook as soon as I can, but I'm a single person doing this, and I also work a full-time job.

You can pay for this book by using your credit card, but you have to be careful. To read more, click HERE.

Or you can pay for this book by sending cash (sorry, I can't accept money orders or checks for this small an amount) to:

Milford Slabaugh
4601 Lexington Avenue, Apt. 208
Los Angeles, California 90029

You can e-mail me as well when you mail it and I'll be watching for the payment, and be sure to provide me with an e-mail address for sending you the book.