CLICK IMAGE
TO LOOK
INSIDE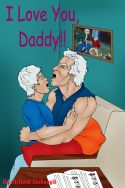 PAYMENT BY CREDIT CARD
CLICK HERE.


I LOVE YOU, DADDY!
PRICE: $5.00

Thirty-one short stories (with illustrations on fifteen of them), all about boys who love their Daddies and love them well! This collection includes all fifteen of my stories written from the Daddy's viewpoint, and eight of these stories involve an adult (or higher teens in age) son. But if you're looking for young boys having fun with Daddy, don't worry, most of these stories involve younger boys regardless of who's telling the story. So it's a wide variety of father/son stories here, and both Daddy and Son end up very satisfied and happy.

The stories in this book are:

Daddy on the Webcam--Our underemployed dad is astonished to find his son's bedroom sports new computer and full-room camera coverage and even more to discover this computer holds images of his sons having sex. Angry at discovering his older son has been raping his younger, he sets out to administer some rough justice, he rapes the older boy while the younger makes sure to get it all on tape. But there's more to the story than this.... Rough sex.

Don't Wake Daddy!--A story told strictly in dialogue, two boys slip into their Daddy's room so they can check out his cock. Finding it hard, they can't resist playing with it some...but don't wake Daddy!

My Little Nudist--His young son is in a "nudist" phase and when his wife goes out to work leaving him alone with his child, he decides to join in, which leads to horseplay and then more intense action.

Like Icarus--In the future, Mankind lives totally indoors, shut out from the outdoors. If there is any clean air left to breahte (and any freedom), it remains up high in the air, and this father and son conspire to join and love way up there in the sky.

A Night Talk--When his leaarns his 14-year-old son has revealed himself to be gay to his mother, he sets out to scare the lad away from any male-male sex by performing an act of home invasion and sexual molestation of his son...but the boy likes it all and wants more, and so does our hero.

Am I Doing it Right, Daddy?--On a fishing trip with his son, the boy constantly checking with his father about what he was doing, was he doing it right? Even when the boy ends up in bed with him playing with his cock, he keeps asking and Daddy keeps telling him how to do it even better, because kids learn by doing.

Daddy's on Leave--An older story of mine, our hero's father comes home from the military. Mom has a job in town and a boyfriend on the side, and when our hero comes home and finds Daddy jerking off, he steps in and takes his mother's place in satisfying this military hulk's lusts.

The Fabulous Fitzpatrick Family Featherbed--An old but favorite of mine. In Ireland during the Troubles, the family has inherited a fabulous featherbed. Only the father and three sons in this family, so Dad gets the bed, but there's room for one more, which one will it be? These three argue fluently and it's decided that each will share it one night in turn and Dad will decide who wins the spot. These three boys go all out to get to sleep in this warm soft bed instead of their straw-stuffed mats and Dad is the lucky recipient of their efforts.

Something to Play with--His son is the ammunition his ex-wife is using to make his life miserable and the latest was her trick that left him with his son's custody for Christmas...and no tree or presents for his son (he'd sent them all to her home instead!). He has to somehow make this Christmas special for his son, so he offers his meager possessions for toys, the boy can play with anything he wants, and the boy picks Daddy's cock for his Christmas present!

Both My Dads, Parts 1 and 2--Our hero proudly declares he has two fathers instead of one, the man who sired him and the man who has raised him and both are prominent in his life. When Father's Day comes around, Mom bows out and leaves him in his two father's hands (they like each other) and soon both men are busy giving their son the ride of his life!

Giving Ritchie a Bath--When his son gets messy shortly before he is to go to a party, Dad agrees to get the boy clean so he can go, but Ritchie gets Daddy dirty too, so they share the bath and one thing leads to another.

Bedtime Moves--Our hero is living with his ex-wife (for financial reasons only) and son and feeling miserable. The children want to share their bed, too, and when his wife rebuffs his son, he takes the boy to himself to find the boy has busy hands and intends to enjoy running them over his father's body.

Make Room for Daddy--When Mom and Dad have a fight, Dad comes to their room to sleep, and ends up between his two young sons on the big bed. And boy's hands will wander, which turns out to be fine with Daddy.

The Right Choice--Our hero's son is an erstwhile musician, and when a famous rock band drops by to visit and our hero reveals he used to be a member, the son is impressed. He asks his dad why he quit music and our hero explains he did it to be a father, and the son is grateful and loves his father...a lot.

I Want to Stay with Daddy!--When the judge asks our hero at the divorce, he states he wants to stay with his father. Grateful that this child at least is loyal to him, our hero takes him home and though they have to share a single room and bed, they make do and love each other.

The Punishment of Duke Victus--Captured by the King, the Duke is facing his punishment and it is an odd one. His son has been summoned and the King has the Duke naked and waiting for the boy, and the boy is told to play with Daddy's cock and the Duke is required to cooperate enthusiastically...or die!

The Storm--My first incest tale, our hero has been caught at a gay hotspot by the police and now is on a fishing trip with his father. Our hero explains that he has this fire inside and has to have sex with a man somewhere, somehow...and Dad offers himself to his son.

Daddy Works the Night Shift--Daddy now works nights which means he sleeps days when our hero comes home from school. It's his chance to check out what Daddy has between his legs and as long as he's looking, he might as well play a while. Another older story of mine.

Getting Baby to Sleep--Their new baby is driving them crazy and when his wife gives up, our hero goes into try to get the baby to sleep. He tries the old idea of a "sugar tit" for the baby to suck on and wets his finger with sugar for the baby who sucks away happily. All that sucking by the baby boy and no sex from his wife gives our desperate hero an idea and soon baby is happily sucking Daddy's cock. A rare excursion by me into this extreme storyline!

Chains of Love, Parts 1 and 2--His teenaged son is running wild and our despearate father tries an extreme measure to correct him, he cuffs them together night-and-day. Left with no way to get away from his father, or the man from his son, they form a new and closer bond of love and sex.

The Monster under the Bed--He and his Daddy have moved into his father's old home and he is in his father's childhood bed. Dad warns him about the monster under the bed, if he stays in his bed, the monster won't hurt him, though it may play with him a little. That night, he finds out two things, the monster is real and the monster (coming from a trapdoor under the bed) is his own father.

The Accursed Castle--Prince Griom has re-entered his kingdom's devastated lands to avenge his loss and his family's fortunes, but he finds that the monster who destroyed things is still there, and is keeping his father in a form of stasis. Freeing his father, he and his Dad discover a new life as they share their reunion and knowledge of each other.

Daddy's Other Woman--Our hero walks in as his mother is talking on a phone that she knows her husband has taken up with another woman. Our hero and she talk and he assures her that his father does not have another woman...and Daddy doesn't because the "other woman" in Dad's life is our hero!

Temple Duty

How to Make a Pervert in Three Easy Lessons

Touch Football

Climbing Mount Daddy

Two Bats

The Day They Changed the Law


This eBook is in PDF format. Delivery of the eBook is by e-mail upon receipt of confirmation of payment. Please allow up to 24 hours for delivery; I'll send the eBook as soon as I can, but I'm a single person doing this, and I also work a full-time job.

PAYMENT BY CREDIT CARD
CLICK HERE.

Or you can pay for this book by sending cash (sorry, I can't accept money orders or checks for this small an amount) to:

Milford Slabaugh
4601 Lexington Avenue, Apt. 208
Los Angeles, California 90029

You can e-mail me as well when you mail it and I'll be watching for the payment, and be sure to provide me with an e-mail address for sending you the book.