CLICK IMAGE
FOR A FREE
SAMPLE FROM
THIS BOOK!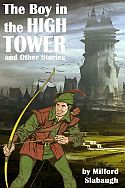 To Buy the Book, CLICK HERE
THE BOY IN THE HIGH TOWER
PRICE: $5.00

Twenty short stories with fifteen illustrations. I have a substantial pile of images I have not yet been able to put on any new stories so I worked with them, by cutting the characters out of their background and placing them on a new background and then wrote a story to accompany it. A small scattering of these are illustrations I have used already but repurposed in this same manner, same characters in a new background. The stories comprise twelve stories that are totally original and eight were written on a "fan commission" basis. Two of those last are stories I have written in the past which were expanded by the fans, and two are two-part stories (I counted those twice in my tally).

The stories in this book are:

The Boy in the High Tower--Sir Henry dreams of becoming a dashing hero of legend like Robin Hood, going so far as to mimick the dress of the storied renegade savior. When he learns the Crown Prince has been locked away under the pretense of illness by the Prince Regent, he sees his chance to turn his ambitions into reality. And where does one look for a captured royal child but in the highest tower of the castle. He scales the tower and finds a child residing there, but as to what happens next, it's nothing like Robin Hood's adventures.

The Fifteen-Cent Bath--When cowhand Clyde rode into town with his monthly pay in his pocket, his first choice is to get a good bath. The options are five cents for a tub of hot water, soap and towel only, ten cents, a boy comes in and helps you bathe. And as for what he gets for fifteen cents, well, he gets more than bathed.

Daddy's Magic Lamp--My 2020 birthday gift for loyal fan FG. Our hero hears his father and a girl he brought home for you-know is talking and he overhears Dad telling the woman that he has a magic lamp in his crotch and if she rubs it, something amazing will happen. When the girl gives him the slip and Daddy is waiting naked in his bedroom, our hero slips in to rub Daddy's magic lamp and finds the result very magical indeed! Frottage sex, of course, that's the "F" in FG.

Skinny Dipping--A hot summer, a sweaty construction worker, and a nearby secluded, hidden lake he has learned of. His adventure to skinny-dip after work causes him to meet a young boy who is also using the lake to cool off in the altogether, and the boy has some fun games to play with his new adult friend.

Frog Gigging--Our young hero is living with his aunt and teenaged cousin in the backwoods and is offered a chance to go frog gigging with the cousin that sundown. He aids the cousin in gigging frogs and as a reward the cousin gives him the chance to grab hold of what he has been staring at all day long, the cousin's hot throbbing dong.

Big Brother's Money--Manolo's big brother Chico doesn't have a job but always seems to have money. Manolo fears his brother is in a bad crowd so he follows Chico early one afternoon and finds Chico isn't selling anything, but plenty of men are ready to give him money for what he does do!

Somniloquy and Somnambulism--Ralph learns his new neighbor is a confirmed nudist and he slips into the man's backyard to find him naked and asleep. He takes the opportunity to have a little fun only to learn that this hunky neighbor suffers from both somniloquy and somnambulism and both are lots of fun for Ralph!

Aleksi and Gerodi: Love and Marriage--A fan who read "The Sweethaven Chronicles commissioned this story about Coach Aleksi and his boy Gerodi, who live in Sweethaven where the men are literally larger than life and all of them enjoy the loving attentions of an eager young boy. In this story, we take up where the book left off about the enormous Sizer man Aleksi Lehti and his foster-child Gerodi as their love matures into a permanent relationship as lovers and marriage.

The Boy in Cellblock 4--A fan commission job in two parts. Young Paulie's dad is in prison and his mother doesn't want to keep him, so he is about to be dumped into foster care. Instead, he seizes the chance during visitation to slip into the cell block where his father is held, and quickly finds the prisoners there are more than happy to have a sexy young boy to play with...and protect.

Weekend at a Nudist Colony (Expanded)--A fan read this story in "The Warm and Friendly Dark" and wanted to hear more about the characters so this story takes up where the last story left off. This prior story is included, I merely picked up the story and kept on writing it so this story is double-length. I added an illustration, too!

The Long Woolen Nightshirt--In Medieval times, it is winter during the Maunder Minimum (six very cold decades). Lord Thomas is 21 and living in the castle when he hears a child crying. The boy is alone and cold and Thomas kindly brings him to his own bedroom to sleep (he has a burning brazier to keep the place from freezing him to death). Thomas also has a long woolen nightshirt that is thick and very, very warm to protect him from the cold. The boy slips underneath to share the nightshirt and repays the man's kindness with some busy loving hands and mouth.

Bart Simpson and the Love Machine--Writing stories for pay results in a lot of fan fiction. Young Bart stumbles upon Professor Frink's latest invention, which is supposed to make him incredibly popular. But Milhouse sets the machine where Bart's popularity is confined to the men of Springfield, all of whom are eager to fuck the boy for all they're worth. The fan wanted anal only sex with Bart the passive all the way, so that's what he got in this two-part story.

Fresh Fish--Toby is back at Camp Awanchadiya this year with a new purpose, at the age of 18, he is an assistant camp counselor and he meets up with old friends and a new agenda, to bag the "fresh fish" (new boys at camp) for some sexual fun and games and the first target for these three horny older teenagers is the bright and bouncy six-year-old Lance who turns out to be more than a simple conquest for Toby.

Pitching Tents--Dad's new tents for their weeklong camping vacation poses an issue for young Rob as he is expected to share the tent of his twin younger sisters. But the nearby camper James offers to let Rob share his tent and, as it turns out, they share more than the tent.

Red Rocket Redux--Another case of a fan reading an older story of mine, this time the rather old "Red Rocket" story and again, he wanted more, so I went back and told about the characters' next time when they again play the game of "Red Rockets" to make Daddy shoot, only there are more games than that to play as Daddy shows our hero. Brother Timmy gets busy with Bobby's friend Ronnie next door. A story told all in conversation and sound effects. You can find the first half of this story at Nifty Archives under Incest, but you have to dig WA-A-A-A-Y far back.

The Problem Child and the Trustee--Our adult hero is the trustee for a young child's trust fund and the boy has been dumped on him by his exasperated mother who can't control the boy who is determined to seduce every man he can get his hands on. How can you stop such a spoiled brat kid, other than give the kid all of your cock you can shove at him in hopes he'll settle for just you!

Wistro the Wonderful--An older fan, EG, returned long enough to buy one story of his peculiar fantasies, a man with magical powers able to change innocent teenaged boys into sex toys with enlarged breasts and asses so big they become helpless, then the man has sex with him along with his father.

The Christmas That Almost Wasn't--When Steve's parents are trapped by a blizzard and won't be home in time for Christmas, this boy is left with only his college-aged older brother to share the holiday. But Big Brother Mark tries to cheer up the boy about their "postponed Christmas" by various tricks, and offers Steve three "wishes" that means Mark will do whatever Steve wants. And when Steve gets a good look at his big brother naked on Christmas morning, he knows what his first wish is going to be!

You can pay for this book by using your credit card. To Buy the Book, CLICK HERE
Or you can pay for this book by sending cash (US Dollars, sorry, I can't accept foreign currency, money orders or checks for this small an amount) to:

Milford Slabaugh
4601 Lexington Avenue, Apt. 208
Los Angeles, California 90029

You can e-mail me as well when you mail it and I'll be watching for the payment, and be sure to provide me with an e-mail address for sending you the book.