CLICK IMAGE
TO LOOK
INSIDE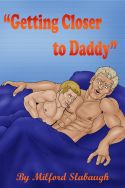 GETTING CLOSER TO DADDY
PRICE: $5.00
Thirty short stories (with illustrations on more than half of them) about young boys who crave the close attentions of their Daddies, and Daddy is only too happy to get even closer to those sweet young bodies. These boys cuddle up and chow down on their Daddy's hot, hard dong and Daddy squirts them a hot luscious load. And when Daddy shoves that hot love-worm up their tender little backsides, these boys can't get enough of hot Daddy loving!

The stories in this book are:

Sitting in Daddy's Lap
Early to Rise
A Real Handful
The Festival of Fathers
Cyborg Daddy
Home Again
He Knows When You're Awake
Daddy's Out!
Sand in My Suit
The Father-Son Sack Race
Daddy's Nasty Weekend
The Evansville Men's Club
Fishing for the Truth
A Nice Vacation
Snow in July
The Monster under My Bed
Taking What's Left
Open Your Present
Talking Daddy into it
Better than Green Beer
Tattletale
Homestead
The Sidekicks' Halloween
Daddy's Secret Lover
Slumber Party
Sleeping on the Couch
Spying on Daddy
The Long, Cold Winter
A Visit from St. Nicholas
I Get to Sleep with Daddy!

This eBook is in PDF format. Delivery of the eBook is by e-mail upon receipt of confirmation of payment. Please allow up to 24 hours for delivery; I'll send the eBook as soon as I can, but I'm a single person doing this, and I also work a full-time job.

You can pay for this book by using your credit card, but you have to be careful. To read more, click HERE.

Or you can pay for this book by sending cash (sorry, I can't accept money orders or checks for this small an amount) to:

Milford Slabaugh
4601 Lexington Avenue, Apt. 208
Los Angeles, California 90029

You can e-mail me as well when you mail it and I'll be watching for the payment, and be sure to provide me with an e-mail address for sending you the book.