CLICK IMAGE
TO LOOK
INSIDE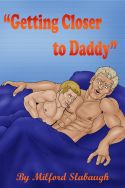 PAYMENT BY CREDIT CARD
CLICK HERE.


GETTING CLOSER TO DADDY
PRICE: $5.00

Thirty short stories (with illustrations on more than half of them) about young boys who crave the close attentions of their Daddies, and Daddy is only too happy to get even closer to those sweet young bodies. These boys cuddle up and chow down on their Daddy's hot, hard dong and Daddy squirts them a hot luscious load. And when Daddy shoves that hot love-worm up their tender little backsides, these boys can't get enough of hot Daddy loving!

The stories in this book are:

Sitting in Daddy's Lap--Young Max had been sitting with his mother to watch TV every night since he could remember, first in her lap and then next to her, snuggling as they spent this special time together. But now Max had a baby sister to contend with for Mom's affection and time. When Daddy offered his own lap for our hero, Max found Dad's lap to have some distinct advantages over Mom's!

Early to Rise--Our early-rising hero, seven-year-old Jamie, is glad to see his Dad, now on the day shift, gets up as early as he does. They share these early morning hours and one day, when Jamie gets a little too curious about what's in Dad's briefs, he finds out a whole new benefit to the entire early-to-bed, early-to-rise way of life!

A Real Handful--Our hero's Daddy has returned home and our hero is bouncing around he's so glad to have Daddy back. But his Mom has to get dinner ready so she asks Daddy to keep their son busy while she fixes dinner. Our hero is a real handful, all right, but Daddy turns out to have an even bigger handful in his pants.

The Festival of Fathers--Our seven-year-old hero is with his father who is studying and living with a tribe in the remote Amazon in the early part of the 20th Century. His parents and he have been adopted by the tribe as new members but now the first of the tribal festivals, the Festival of Fathers, is about to begin and our hero and his father must participate. And the main event is for his father to take his son sexually!

Cyborg Daddy--In the future, seven-year-old Tom's Daddy had an accident which crushed half his body, and modern medicine has replaced it with cyborg parts, including the damaged part of his brain. But this change means that Daddy has changed, and part of that is a whole different relationship with his son!

Home Again--Daddy is home again after a year in Iraq. But now Mom has a job, Dad's old job is history and all of his friends have moved away. There's nothing left for Daddy, in fact, but his ten-year-old son's love, and the start of something new when everything else is gone.

He Knows When You're Awake--Five-year-old Sam hears noises downstairs on Christmas Eve and decides to spy on Santa. All he sees is Momma and Daddy, and Daddy warns him that if Santa catches him awake, he'll skip over Sam's house for Christmas. So Sam goes back to bed and when he can't sleep, he begs Daddy to sleep with him a while. Daddy does more than sleep with our young hero, which lets Sam sleep real sound!

Daddy's Out!--David's grandmother is bedridden and living with them, and the arrangment turns out that she is moved into his parent's bedroom with his mother while David shares the big bed in his own room with Daddy! Daddy isn't happy with this, but David is eager to get his Daddy in bed so they can play the games in bed he always played with his friends. Daddy is ready to teach our hero some new games that are even more fun!

Sand in My Suit--Our hero's problem with spending his vacation at the corporation's private beachhouse was sharing it with his family, and his son and daughter don't get along. But when 7-year-old Ricky goes too far and ends up with a swimsuit full of sand, it's up to Daddy to help him clean it out, and that's when the vacation gets interesting!

The Father-Son Sack Race--It's the company picnic and the climax of the day is the prize contest, which this year is a sack race with an odd rule. Fathers do the jumping, with their sons riding inside the sacks. The rules only the boys know is that the real prize goes to the one that finishes last, and Daddy doesn't know this. Our hero is determined to make his Daddy "win by losing" and will do whatever it takes to slow his Daddy down...including playing with Daddy's dong right in front of everyone. But Daddy is determined to win....

Daddy's Nasty Weekend--Our very young hero is off to spend the first full weekend with his Daddy since the hard-fought divorce. He's ready to spend the weekend doing whatever his Daddy wants, but is surprised by just how nasty his Daddy's plans are for him...but he loves it!

The Evansville Men's Club--Jeff and his parents move to Evansville, in part to solve their marital problems, as their therapist has promised that everything can be solved by Jeff and his Daddy joining the Men's Club there. And they do, only to find that the initiation is only the start of a whole new chapter in their lives.

Fishing for the Truth--He was going on a fishing trip with his father, and all he knew was that his father had something to tell him. But it wasn't what he expected, and Dad's secret turned out to be tied up with his own secret. They make love, and it's the start of a whole new relationship, based on the truth instead of lies.

A Nice Vacation--Our six-year-old hero and his parents have taken an island timeshare. Little did they know the cottage was right next to a nude beach and his mother is freaking out! Mom goes shopping to calm herself, and our hero goes in search of his Daddy on the beach, only to find his nude Daddy napping with a stiff one...or is Daddy really asleep? One way to find out....

Snow in July--It's July and the coldest day of the year in southern Chile, and our Antarctic-scientist hero has his 6-year-old son staying with him for the summer. But the electricity in the home is out and with it the furnace, leaving them to cuddle under a blanket before a fire together. And our hero being naked, his son is quick to follow suit and after that...there's more than one way to keep warm!

The Monster under My Bed--Seven-year-old Thad moves in with his Daddy and ends up in Dad's childhood bed. Dad warns Thad about the monster that lives under his bed, but Thad doesn't really believe in monsters, does he? Then he gets a visit that night from a very horny monster that looks oddly familiar!

Taking What's Left--Three years after a comet strike, our six-year-old hero and his father are surviving in an isolated mountain cabin. They've lost the rest of their family and everything else in the strike, and are making do with what's left, and when our hero crawls into bed with Daddy on a cold night, they find out that what's left is still pretty darned good!

Open Your Present--Seven-year-old Donald was spending his first Christmas with just Daddy since the divorce. His Daddy knew Don loved the holiday and had done it up right, marking each of Donald's gifts with a red bow. Then Donald notices one of those red bows has fallen in Daddy's lap, so Don claims his present!

Talking Daddy into it--Our hero is an 8-year-old boy whose softball team has a problem, they need our hero's father to volunteer to chaperone their away games all summer. He's out to convince Daddy to volunteer and will do whatever it takes to convince Daddy to sign up.

Better than Green Beer--His Daddy was a recovering alcoholic being bombarded on St. Patrick's Day weekend with images on television of green beer. Our 15-year-old hero wanted to help keep his Dad on the sober path and is ready to do whatever it takes to keep his father's mind off those images of green beer. And finds that Daddy has another addiction to contend with....

Tattletale--Little Leo is the family's youngest and their resident tattletale, telling on his older brother. But when his brother and a male friend do something interesting in bed, and he goes to tell Daddy, Daddy doesn't seem to understand him. Our hero goes all out to get his brother and friend in trouble by showing Daddy just what they'd been doing...by doing it with Daddy!

Homestead--Seven-year-old Jacob and his widower Pa are out to make good on a homestead in the year 1857, but they are starting with only a broken-down cabin and the labor of their own hands. Forced to share a bed their first night on the homestead, they find the accommodations bring on a new level to their relationship.

The Sidekicks' Halloween--Freddy's family has moved to a new town and Mom wants them to start fitting in, so she insists Freddy and his Daddy attend the Sidekicks' Halloween party that's an annual Father/Son event in this town. But when they get there, Freddy finds out Daddy knew about this party all along and it was why they'd moved there. With Daddy dressed as the Green Arrow and Freddy as Speedy, it's time for them to start fitting in with the other father/son superheroes/sidekicks!

Daddy's Secret Lover--Dad is into some serious bondage, a real submissive. When Dad's lover leaves Dad tied up and blindfolded in the bedroom, and is begging for some action, our hero sees a chance to get a little action of his own!

Slumber Party--When his younger sisters decide to throw a massive slumber party, all Steven and his father can do to get some peace and quiet is go check into a local motel for the night. But they turn out to have their own slumber party with its own secrets and revelations.

Sleeping on the Couch--When sneaking a midnight snack one night, our hero discovers his Daddy sleeping on the couch. He has the idea that he and Daddy should have a living room "camping" like he had with his friends last summer. Daddy and our hero fill that one big sleeping bag really tight...which leads to some interesting rubbing going on. Non-penetrational sex.

Spying on Daddy--Our 6-year-old hero comes home unexpectedly early one day to catch his Daddy (who works nights) in bed masturbating. He watches his Daddy come, and then Daddy sees him watching and tries to explain things...which is fine, but it leaves our hero deciding to give his Daddy some help in that department from now on!

The Long, Cold Winter--In November 1869, a father and son are riding mules up to a lonesome mountain cabin through the snow. They're prepared to spend the entire winter in that cabin, but our hero learns that his Dad has some special plans on how they'll spend the long, cold winter hours alone.

A Visit from St. Nicholas--Todd is worried when his older brother declares there is no Santa Claus. But on Christmas Eve, he hears footsteps on his rooftop and goes down to find Santa Claus in his living room. And Todd is ready to do anything to keep Santa around for a while, even if Santa bears a strong resemblance to his Daddy in a Santa suit.

I Get to Sleep with Daddy!--When Mike and his father move back into his father's old house, they end up sharing the same bed. This is just what our hero has always wanted and he shows Daddy the advantages of having his son sleeping with him!


This eBook is in PDF format. Delivery of the eBook is by e-mail upon receipt of confirmation of payment. Please allow up to 24 hours for delivery; I'll send the eBook as soon as I can, but I'm a single person doing this, and I also work a full-time job.

PAYMENT BY CREDIT CARD
CLICK HERE.

Or you can pay for this book by sending cash (sorry, I can't accept money orders or checks for this small an amount) to:

Milford Slabaugh
4601 Lexington Avenue, Apt. 208
Los Angeles, California 90029

You can e-mail me as well when you mail it and I'll be watching for the payment, and be sure to provide me with an e-mail address for sending you the book.