CLICK IMAGE
FOR A FREE
SAMPLE FROM
THIS BOOK!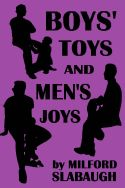 To Buy the Book, CLICK HERE
BOYS' TOYS AND MEN'S JOYS
PRICE: $5.00
Seventeen stories (one is four times as long as the others, and another is double-length) with fifteen illustrations culled from my archives and chosen for their appropriateness on the story in question (I did my best!) As opposed to the books of stories written for fans when I to write to their specifications, these are all the pure, unadulterated stories of my own from my famously dirty mind.

The stories in this book are:

An Oral Course--These second-grade students in Elementary Sex Education are all seven year old boys eager to quit practicing with plastic-and-foam practice aids, and get to the main action of their final exam...composed of handsome hunky Marines who are each assigned to one of the boys whose job is to provide the jarhead with the best possible blowjob a boy can provide. None of these boys wants to fail and miss out on their plans to celebrate with their daddies, older brothers or neighbors (who each plan to bring their buddies along for the fun!) Also, if they pass, they get to take the advanced courses in Sex Education.

Getting Big Brother Off--Our hero's big brother had two loves in life, hot sex with his girlfriend and tackling our hero and holding him down until he gets what he wants. Our hero comes up with a solution that gets Big Brother off of him...by getting Big Brother off!

Morning Interruptions--Our hero's mother, aunt and sister are all off in the early morning for an event and his Daddy, bothered by their constant noise and interruptions, comes to sleep with his young son. The two get busy but their joy is constantly interrupted by the women getting ready...but that doesn't stop Daddy from having his fun!

At the School Saturday Morning--Our hero goes with his janitor father to the high school to clean up, only to find a football player/newcomer to the school tied down stark naked in the lockerroom. He's all alone with the jock who has an urgent need and our hero discovers his own urgent need when he fondled the teen's prick as he pees, then stiffens up at the attention it is getting from our boy hero.

Billy Gets a Spanking--Daddy promised Billy if he kept getting into the construction site next door he'd get a spanking and now it's time to deliver. But as the man (wearing only a bathrobe) spanks his boy's bare bottom, they find their cocks touching and soon the boy is getting his butt pounded in a totally different way which is a lot of fun for both of them.

Hubby Has a Chubby--Our young hero's mother is rich and married a hunky boytoy who is constantly horny, but when the honeymoon is over and Mom has to return to her corporate duties, our hero finds his new stepdad is a rich source of hot man-cock for him to enjoy.

Let It Snow!--Our young hero's big brother and his three frat buddies are waiting for their girlfriends to arrive for the real fun of this mountain snowlodge, but when the girls are snowed out and can't come, our hero finds them more than willing to let him substitute as a relief for their frustrated bulging boners.

Sis' Boyfriend--Our hero's sister has a hunky boyfriend who is obviously looking to move in on her and let her support him, so when he finagles a spot on their couch (and maybe soon to move in completely), our hero decides to check out this guy's honker and one thing leads to another.

The Trading of Brothers--When these two boys are left in the charge of their older brothers, who set out to make them into their personal handservants, these boys hatch a plot. These two teenaged hunks wake up tied to the bed at the mercy of their buddy's little brother who is going to enjoy playing with the studly body and make the teen do whatever they want!

A Fifth for Bridge--An extra-long story in eleven sections, our hero's Dad and his three buddies have a weekly marathon bridge game with the one who wins the most points winning all the money. But this weekend, one of them brings a relative along, and they have to manage. Bridge is a game for four players only, so one of the men in each set of three rubbers has to sit out alone with our hero, but the men soon discover sitting out the game having fun with the boy is better than bridge, and when it's Dad's turn, he finds a well-trained boy-lover ready to service him.

Mr. Herbert's Paintings--When the kindly old man next door passes away, his home is left empty, but our young hero and later his father discover the basement shows the old man's secret vice...painting the father and son in all possible sexual positions. The boy convinces Dad to try them out and there are over seventy paintings for these two to explore in bed and more.

Stark Mountain--Only two homes stand on Stark Mountain and our hero owns the smaller one. He discovers on his drive home the young boy of the neighbors has to walk the long uphill road home and offers him a ride, and when he learns the boy will be alone all night, takes him home with him to find the boy has a terrific way to repay the man's hospitality with some friendliness of his own.

Why Don't You Come Get It?--The boy's older brother has a huge dong and our hero sneaks into Big Brother's closet to sneak a peek at him jerking off. But Big Brother one day motions him to stop staring and come help him out for a change, and our hero is eager to get a chance to grab hold of that humongous brother-dong.

Saturday Matinee--Our hero Dad has his family in tow, but his son doesn't want to be dragged to the dumb anime cartoon his sisters and mother want, so he agrees to take the boy to see the latest Terminator spin-off. And when the movie proves to be awful, he finds his son willing to spend this time in the dark, nearly empty theatre that is a lot more fun!

The Doctor's Stirrups--Our hero is new in town and has to pass the physical before he can play on the Little League. He is sent to the local doctor and sees the stirrups the doctor has on his examination table and expects he has to "get in position." The doctor agrees and gives the boy a testicle check and prostate check that leads to even more fun. Turns out the coach and doctor are best buddies and want to greet the latest boy on the team with a hard, hot welcome.

The Fertility Fetish--A longer than average story in three parts, the small fetish shows up again and again to be found by a little boy. Soon as he puts it on (the fetish compels him to) the nearest hunky men immediately are seized with the desire to grab the boy and fuck him hard and long. Done, the fetish vanishes again, and it seems to be traveling west....

You Can Call Me Brutus--In the Old West, our hero wakes up with a painful headache (bandaged) in a strange room. He can't even recall who he is. He meets his rescuer, a young boy all alone on a farm. The boy names him "Brutus" after his now-dead dog, and with his new identity, he aids the boy on the farm as he heals, and the boy and he form a bond that is one of hot sex and fruitful farm labor. But when the man's memory returns, he knows he has to go back and face the fate he just barely escaped before.

You can pay for this book by using your credit card. To Buy the Book, CLICK HERE
Or you can pay for this book by sending cash (sorry, I can't accept money orders or checks for this small an amount) to:

Milford Slabaugh
4601 Lexington Avenue, Apt. 208
Los Angeles, California 90029

You can e-mail me as well when you mail it and I'll be watching for the payment, and be sure to provide me with an e-mail address for sending you the book.