CLICK IMAGE
FOR A FREE
SAMPLE FROM
THIS BOOK!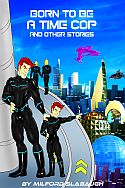 To Buy the Book, CLICK HERE
BORN TO BE A TIME COP
And Other Stories
PRICE: $5.00

Fifteen short stories and a five-chapter time-travel story with twenty illustrations. In this book, I have taken old illustrations, cut the characters out of them, altered them as necessary (with not-so-great results on a few of them) and pasted them into new backgrounds to create reasonably new and original illustrations for these stories. When I could, I used an "orphaned" illustration originally put on a story no longer available for sale (usually by another author) for the characters to be cut and repurposed. The stories comprise eleven stories and the five-chapter title story that are totally original works by me, and four were short stories written by me on a "fan commission" basis (their idea, and my story about it).

The stories in this book are:

Bonobos Have Got it Knocked--When our young hero is watching the bonobos (a smaller species of chimpanzee and second-closest evolutionary relative to humankind), he watches two of them, a father and son he is told, engage in sexual actions and is told that this is how their species avoids all social tension between its members (therefore, they don't fight very much). Our hero knows his own Daddy has a lot of tension in his life and figures he'll give it a try.

The Cocknapper Kids--When her three sons ask her who their daddy is, they get a surprising answer, she used a magical spell to temporarily "steal" the cock of the man she loved to father them. These three boys figure that those three older bullies who make their life miserable could deserve to lose their cocks for a while, and have some fun with the penises as long as they're keeping them.

Favorite Toy--Our teenaged hero breaks his little brother's favorite toy (he sits on it on his own bed!) Mom finds out and declares that in exchange, our hero has to give his little brother any of his own toys (football helmet, football, etc.) he wants. But this little scamp knows that our hero most enjoys playing with the toy between his legs and claims ownership. Uncomprehending Mom tells him to shut up and turn over the toy, so he does.

Maximum Occupancy--Our purchasing agent hero overhears a man with wife and three kids trying to check in to a single room, but the hotel has a strict limit of two adults and two children per room, they have to find a place for one of them. Our hero agrees to take the young boy (who seems to be the least favored member of the family) and the boy ends up in his room and his bed. And the family takes the opportunity to abandon this boy and vanish, leaving our hero to save the boy and the day.

Alley Near the Bar--Dragged along by his mother out on a bender, he is told to wait for her in the alley nearby while she "ties one on." He is joined soon by a man who is looking for a place to take a leak, and things proceed from there in this story.

Formal Dinner--A story written for fan CCG, our executive assistant young man works for a high-pressure and disapproving woman visiting a client's mansion, where he encounters the man's young son who is taken by him...and ends up under the table at the formal dinner playing with his trouser snake. But his boss wants him to sit up and pay strict attention, she needs him to do his job here, too!

The Huntsman's Son--Thomas is a royal huntsman used by the royal family to hunt boar and stag in season, other times he works his small farm all alone. Then one day he hears a hunt, but the prey is the youngest son of the king! The King is dead, and the Crown Prince is determined to let no competitor to his crown arise from his younger brother. Thomas hides the lad by telling everyone it is his recently discovered son from a liaison years ago, but their actual relationship is a lot more close as the boy repays the man for his rescue and kindness.

Born to Be a Time Cop--A five-chapter story. Garth is about to be hit by a train, only to discover himself transported forward in time at the last instant. There he is met by his older self, Garth-4 who explains how boys like him are gathered and trained to be Time Cops due to the unusual nature of being rescued at the point of death as Garth was. But other people tamper with time, and it's up to Garth to rescue his future selves when Garth-4 disappears...by stopping the man who is trying to save his life! Plus there's a promise by Garth-4 to teach him how to capture a live bear using nothing but his ingenuity....

Hyper-Suggestible--Another CCG story, our hero overhears his older sister telling how she and his older brother attended a hypnotist's show and how Big Brother fell under the hypnotic spell just from watching. The hypnotist used a trigger word to put the brother and other volunteers back under just by saying it. The hypnotist takes off the compulsion, but Big Brother had fallen asleep and is still suspectible to the word, in a big way. Time for fun and games with Big Brother whether he wants to or not!

Exercise is Exercise--The third CCG tale, and how he got his moniker as "Camp Counselor Guy." Andrew is a camp counselor at a "fat camp" and tries to keep these rather reluctant campers on the path to losing their excess weight. But a rebellion occurs and soon Andrew is the helpless pawn to the lusts of these several chubby and horny young boys for the body of their hunky and virile camp counselor.

My American Flyer--In 1940 France, a British plane flown by an American volunteer is shot down and crashes near our young hero's farm. His family agrees to hide this man from the Germans, and their hiding place is in our hero's bedroom, so of course he has to sleep in there as well....

Bathing During Coronavirus--FG commissioned a story about an old soap commercial showing a man and boy who have shared a bathroom (and shower?). I responded by writing this coronavirus-related tale, our hero and his father are under lockdown and the wife/mother is caring for her own mother who is gravely ill from Covid-19. Left to their own devices and little to do, they share a shower one day "to save water" and things go from there. I gave FG his beloved frottage and other sex, then went back and wrote my own sex scenes for this scenario and that is what you will find here. (FG's usual works are on haitus during this worldwide pandemic which has affected his work dramatically, but he intends to return when he can afford to buy more works.)

Wrong Bag--During a short stay in the big city to buy school clothes and such, our young boy hero finds that the bellboys gave him a fellow passenger's bag. This man is staying at the same hotel so he goes there to change the bags, but a magazine has shown him this hunky man is gay, and since our hero is also gay, he wants to get to know the man better.

Camping Guide--The hunky man is working as his family's guide on a hiking vacation, but when they lose some of their camping gear including our hero's tent, the guide offers to share his own with our young boy hero, and he finds this guide can teach him about more than the wonders of nature.

The Evaluation--A father and son are standing before a council who is to evaluate whether their desire to continue having sex with each other is to be allowed. This entails them showing this stern staring council that Daddy is a loving man and the boy genuinely enjoys what they are doing in bed, right in front of the Council's calculated and stern eyes.

If You Can't Join 'em, Lick 'Em--Nine-year-old Alan Parker is a boy genius and now attending the twelfth-grade classes. Smarter than the studly football jocks, he can't help but laugh at their lame and wrong answers to the verbal quiz the teacher is giving, and the teacher assigns him to tutor the football star over the next week. Alone in his bedroom that night with this hulking stud, our hero tries to teach him about the different classes of levers which even our bodies use to move. The jock wants to know what levers work when his cock is jacked and squirts. A demonstration is called for....

You can pay for this book by using your credit card. To Buy the Book, CLICK HERE
Or you can pay for this book by mailing cash (US Dollars, sorry, I can't accept foreign currency, money orders or checks for this small an amount) to:

Milford Slabaugh
4601 Lexington Avenue, Apt. 208
Los Angeles, California 90029

You can e-mail me as well when you mail it and I'll be watching for the payment, and be sure to provide me with an e-mail address to send the book to you!