CLICK IMAGE
FOR A FREE
SAMPLE FROM
THIS BOOK!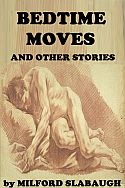 To Buy the Book, CLICK HERE
BEDTIME MOVES AND OTHER STORIES
PRICE: $4.00

SEVEN EXTRA-LONG BRAND NEW, never before published short stories, plus one story from my own works which is given for completeness' sake, these are mostly (five of the seven) father-son incest stories written for FG and they range from three to five times as long as my own usual short story length. The other two are (a) an alternate ending for the popular Polish movie "Kler" which has not yet (I think) made it to the USA but will soon, and (b) a story for EG which was a man/boy story outside his usual range of choices. While my story and these last two are my normal length (about 5-6 typewritten pages, FG's stories are usually 15-25 pages long with multiple sex scenes, and this book is 279 pages in length in printed PDF form.

The stories in this book are:

Bedtime Moves--My own story which FG wanted a sequel to, it tells of our hunky hero who has moved back in with his ex-wife and finds her favoring their daughter and neglecting their son, so when the boy climbs into bed and wants to snuggle, he lets the boy do so, and that opens a whole new door of sexual delights for this man right under the nose of his snoring ex-wife.

Bedtime Moves Revisited--The sequel which is much longer, tells of our hero returning to the same living arrangement several years later to find his son older but still eager to play bed games with his hunky Dad.

The Wayward Ball--When our young hero loses his basketball into the neighbor's yard, he is wary of this bad-tempered neighbor's reaction to his intrusion but sneaks into the back yard anyhow. He finds his ball just as the neighbor finds him and it turns out the neighbor has been studying our young hero in his tight gym shorts a long time and intends to enjoy his young captive trespasser. This story was written for EG as a departure from his usual story specs.

Brooklyn's Do-Nothing Day--FG keeps asking for sequels to the "Beckham Four" stories I have written for him and this is the latest, when David Beckham's eldest son Brooklyn (in his late teens in this story) decides to take a full day off and do absolutely nothing. But his brothers and Dad have other plans for this inactive family member and take full advantage of his unwillingness to get up and out.

What Would You Like To Know?--When Jimmy's father declares a father-son weeklong vacation, Jimmy finds out Dad plans to use the time to discuss sex with him and when told they are going to talk about sex, Jimmy declares that he can teach Dad more than Dad can teach him.

What is Man?--An alternate ending to the Polish movie "Kler" which is currently making big waves in Europe (but hasn't gotten here yet that I have discovered), wherein the kindly Father Kukula has a much happier resolution to the events of the movie. Written for my fan SBG who was the fan who commissioned the "Mr. Strawberry" series found in "The Discovery of Man" book.

Lancelot and Galahad--A sequel to the first "Kingsman" movie, Eggsy discovers that the Kingsmen had actually kept his father alive and he has been revived after many years of healing, and is thus now barely older than his adult son, and the two rediscover each other and enjoy each other man-to-man while they deal with the latest threat to Mankind from the brother of the deceased Richmond Valentine and the still active SIM cards.

Timmy's Anti-Fairly Oddparents--Timmy Turner's Fairy Godparents reveal that for one day every 10,000 years, the Anti-Fairies and Fairies have to switch roles and for that day, his godparents will be Anti-Cosmo and Anti-Wanda. He doesn't plan to use them to grant wishes despite their requirement to adhere to "Da Rules" but when he slips and wishes that Dad loved him more than Mom, his wish is granted a little too well.

PAYMENT BY CREDIT CARD
CLICK HERE
Or you can pay for this book by sending cash (sorry, I can't accept money orders or checks for this small an amount) to:

Milford Slabaugh
4601 Lexington Avenue, Apt. 208
Los Angeles, California 90029

You can e-mail me as well when you mail it and I'll be watching for the payment, and be sure to provide me with an e-mail address for sending you the book.