CLICK IMAGE
TO LOOK
INSIDE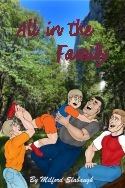 ALL IN THE FAMILY
PRICE: $5.00
Thirty-one short stories (with illustrations on seventeen of them) about families that are close and get even closer in these stories. Mostly the families include young boys having loads of fun servicing the dongs of their elder brothers, daddies, uncles and cousins. These boys suck and jerk and ride those hard dongs until every member of their family is drained completely dry and the boy is filled full of hot spunk. Yep, while an occasional non-family member (and once, the family dog!) joins in on the fun, it's mostly a lot of good, clean, all-American family fun!

The stories in this book are:


Three Men in a Tub
Daddy's Haunted House
Hey, No Fair!
The Pinch-Hitter
Ride the Horsey!
Lazy Leyton Langtry
Sharing the Bed With Uncle Ron
Skipped by Santa
A Smile on Your Face
What Daddy Wants for Christmas
An O'Brien Family Affair, Part One
An O'Brien Family Affair, Part Two
An O'Brien Family Affair, Part Three
An O'Brien Family Affair, Part Four
Me, Dad and Uncle Jim
The Pride of the O'Reillys
Earning My Keep
Three Times Two's a Crowd
My New Family
My Dog Brutus
Stays in the Family
Not With My Daughter
The Trash Next Door, Part One
The Trash Next Door, Part Two
On The Road
Nice Having Family
Endless Football
Shooting on the Fourth
You Can Sleep in My Room!
Gift Exchange
My Mother Married Six Men


This eBook is in PDF format. Delivery of the eBook is by e-mail upon receipt of confirmation of payment. Please allow up to 24 hours for delivery; I'll send the eBook as soon as I can, but I'm a single person doing this, and I also work a full-time job.

You can pay for this book by using your credit card, but you have to be careful. To read more, click HERE.

Or you can pay for this book by sending cash (sorry, I can't accept money orders or checks for this small an amount) to:

Milford Slabaugh
4601 Lexington Avenue, Apt. 208
Los Angeles, California 90029

You can e-mail me as well when you mail it and I'll be watching for the payment, and be sure to provide me with an e-mail address for sending you the book.