CLICK IMAGE
FOR A FREE
SAMPLE FROM
THIS BOOK!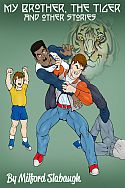 To Buy the Book, CLICK HERE
MY BROTHER, THE TIGER
PRICE: $5.00

Fifteen short stories, a two-part story and a three-part story, for a total of twenty offers all with illustrations. In this book, when an existing illustration from my archives wouldn't fit the story, I took old illustrations, cut the characters out of them, altered them as necessary (with not-so-great results on a few of them) and pasted them into new backgrounds to create reasonably new and original illustrations for these stories. When I could, I used an "orphaned" illustration originally put on a story no longer available for sale (usually by another author) for the characters to be cut and repurposed. Of these stories, seven are totally original by me, and the other thirteen (including the two- and three-parters) were written by me on a "fan commission" basis (their idea, my story incorporating and fleshing out their ideas). These stories in this book are:

My Brother, the Tiger--His big brother Jake was a high-schoool senior who didn't follow the crowd, refusing a spot on the football team despite his natural talent and taking out three jocks who tried to bully him all by himself and his self-defense skills. When a cheerleader tried to set him up for being dumped at the prom, he took his little brother with him instead, including dancing with him and taking him to the luxury hotel room for some hot loving.

The Sacred Lottery of Life--Once a year the people would gather at the temple of The Goddess of Life, the eligible maids' names would be put into a pot and their names drawn by the eligible warriors and they were then married. Our 12-year-old hero watches one warrior carefully, for he has always admired the man. Then his name is drawn from the pot to be the man's partner and they are married. Was this a miracle performed by the Goddess?

Something to Gag About--Seven-year-old Kevin is disgusted when his sister's boyfriend Cliff is allowed to stay with them for three days, and even more so when he finds the man will be sharing his bed that night instead of putting him on the couch. But the man turns out to have an eye for more than his sister as he learns that night. That's fun, but the real thing to gag about is what happens next!

Nightcrawlers--He goes with his new stepfather to a family reunion that is not only big, but downright crowded. So much that the only way to share the house is for all the men to sleep on mattresses in the basement. Which is when the real fun of the reunion begins for our young hero.

Nobody Pranks the Teacher--Mark is the class clown and has tormented many a teacher with his pranks and practical jokes. But the newest teacher turns out to have an answer to this, he gives the boy first a spanking, then pounds his butt another way. Rough sex, written for a fan on commission.

The Fixer-Upper--He and his mom had moved into a house which is still only a skeleton inside. When she goes to work, he hangs around with the workers fixing up the house, and finds ways to have fun with them when they take a break from the job now and then. Written for a fan on commission.

The Squatter--He moves into a new rental house, only to find that the spare room is still occupied by the boy of the former tenant who has vanished. The boy begs to stay with him until his father comes back, and makes himself useful to the bachelor new tenant, especially in bed at night. Then he finds out where the boy's father is....

Sun and Moon--A three-parter story written for a fan on commission about two rather obscure characters from the Nickelodeon cartoon "Hey Arnold!" Wolfgang is the school bully but the old bully, Ludwig, returns to assert dominance. The two, first at odds, form a friendship thanks to Arnold, and this story follows them and their lives after the episode ends.

Six Dads of the Cul-De-Sac--He and his mother have moved into a new home in a seven-house cul-de-sac. These circled houses tend to form a tight-knit community, but our hero finds out how close when the men of the other houses get to know him better...a lot better! Written for a fan on commission.

Friendly Auto Shoppe--His dad's car breaks down next to a small car repair shop so the car ends up with them. Our hero is only with his father for his visitation, and when the dad is called back to the office for a crisis, he stays at the body shop where he is entertained by the two mechanics. Written for a fan on commission.

Tickle the Pickle--When their children break in on Garth and his wife while they are having sex, he isn't happy with how his wife handles the situation. She is angry enough in turn to cut him off and moves out of the bedroom on him...but his young son moves for lots of fun playing "tickle the pickle." Written for a fan on commission.

Gangbanged by Fire Company A--Abner has won a contest at school and gets to spend the next few days living non-stop with the firemen at their station, where he learns what they do when not fighting fires on their 24-hour work shifts. Written for a fan on commission.

Timothy's Final Exam--This is the second sequel to my story "An Oral Course" which is found in my book "Boys' Toys and Men's Joys." This two-part story follows Timothy who has just finished the next and final level of his Sex Education, and his final exam is a test of all his new-found abilities to please men in bed. Written for a fan on commission of course, as I rarely do sequels unless planned for in advance.

Frat Rush Week--Living as the son of a professor of the university in a college town, the fraternities' "Rush Week" is filled with its own tribulations for him and his family. Like the jock tied up naked in his father's closet, who is just angry enough at his fellow plebes to take revenge by hiding out with our hero in his bed.

The Prince and the Soldier--Young Prince Stefan is entranced by the new Royal Guard Dieter. He manages to speak to the guard, and finds the guard is equally attracted to him, which leads to some stealthy visitor to Prince Stefan's room that night.

The Gorilla and his Little Brother--The fifth chapter of a fan commission which really didn't fit the first four, incuding where to publish it (the first four belonged at Fantasy World), so I changed the story enough to make it a standalone tale of a hunky jock and his little brother, who has just learned that big brother is gay. Original written for a fan on commission, tweaked by me for this book publication.

The Lumberjack and the Tree Spirit--Jake is a free-lance lumberjack working alone in the Pacific Northwest woods in the year 1880, but when he starts to chop one ash tree, a boy's voice begs him not to! It is a "dru," a male dryad, and the boy is the spirit of the tree, they fled the Christian incursion into Greece centuries ago and have settled here. Jake spares their grove and the dru is so grateful that he becomes Jake's companion and lover, for an ending that is right out of Greek mythology. Written for a fan on commission.

You can pay for this book by using your credit card. To Buy the Book,
CLICK HERE
Or you can pay for this book by mailing cash (US Dollars, sorry, I can't accept foreign currency, money orders or checks for this small an amount) to:

Milford Slabaugh
4601 Lexington Avenue, Apt. 208
Los Angeles, California 90029

You can e-mail me as well when you mail it and I'll be watching for the payment, and be sure to provide me with an e-mail address to send the book to you!