CLICK IMAGE
TO LOOK
INSIDE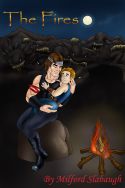 TO PAY BY CREDIT CARD:
CLICK HERE.


THE FIRES
PRICE: $3.00

It is Earth in the future, but a future unlike anything anyone could have imagined. The only survivors of Mankind are those men who find themselves...somehow...awakening suddenly one day lying in the forest, left to fend for themselves in a world where the towns are ruins and the night is filled with horrendous monsters that will slaughter anyone they can capture, but who are driven back by the lights of a burning fire. So when night comes, no matter how strong or how brave you are, you either are within the lights of a burning fire...or you are soon dead! And why do the Things that dwell in the darkness and kill those they can also bring with them and leave behind the very supplies that Man needs to survive...if they can find where the Things left it.

Living in this dangerous world of ravenous Things and desperate men is little Charley, maybe six years of age and the only boy yet discovered. Charley has lived all his short life with The Professor, scrounging in the ruins by day, cowering in fear by the fire at night as the Things prowl the darkness around them. But when the Professor dies, Charley has to do whatever it takes to survive, and must seek out a protector among men who have lost most if not all of their civilization. And to survive in this post-apocalyptic world requires one thing...when night comes, you have to be inside the light of a fire...or you'll die! But Charley has his own secret to discover when the Things ask for him by name! The story is thirteen chapters in length, and the sex is sometimes rough and non-consensual in nature.

This eBook is in PDF format. Delivery of the eBook is by e-mail upon receipt of confirmation of payment. Please allow up to 24 hours for delivery; I'll send the eBook as soon as I can, but I'm a single person doing this, and I also work a full-time job.

PAYMENT BY CREDIT CARD:
CLICK HERE.

PAYMENT BY CASH/SNAIL MAIL:
Or you can pay for this book by sending cash (sorry, I can't accept money orders or checks for this small an amount) to:

Milford Slabaugh
4601 Lexington Avenue, Apt. 208
Los Angeles, California 90029

You can e-mail me as well when you mail it and I'll be watching for the payment, and be sure to provide me with an e-mail address for sending you the book.