CLICK IMAGE
FOR A FREE
SAMPLE FROM
THIS BOOK!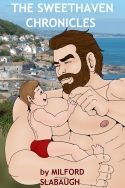 To Buy the Book, CLICK HERE
THE SWEETHAVEN CHRONICLES
PRICE: $4.00

This book is a compilation of the stories I wrote for one fan on a commission basis, all based in a single universe of oversized, overmuscled men and their love for the little boys that are eager to be held by those massively bulging arms and loved by the equally massively bulging organ in their pants. The first segment was published in a prior book under the name "Love and Muscles" but this book takes the storyline in that short story further, making it the springboard for an entire four-part saga with two more multi-part stories about other pairs of massive men and hungry boys. There is one interior illustration in this book of explicit sex (though the artist, due to US law, had to make the guy look 18 years old). If oversized men are what you crave, these men have it in spades and the boys can't get enough of that wonderful stuff!

This eBook is in PDF format. Delivery of the eBook is by e-mail upon receipt of confirmation of payment from Paypal. Please allow up to 24 hours for delivery; I'll send the eBook as soon as I can, but I'm a single person doing this, and I also work a full-time job. If you don't get the book by then, first check your Spam folder, or write me again with a different e-mail address I can use.

PAYMENT BY CREDIT CARD
CLICK HERE
Or you can pay for this book by sending cash (sorry, I can't accept money orders or checks for this small an amount) to:

Milford Slabaugh
4601 Lexington Avenue, Apt. 208
Los Angeles, California 90029

You can e-mail me as well when you mail it and I'll be watching for the payment, and be sure to provide me with an e-mail address for sending you the book.