CLICK IMAGE
FOR A FREE
SAMPLE FROM
THIS BOOK!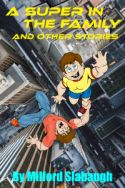 To Buy the Book, CLICK HERE
A SUPER IN THE FAMILY
PRICE: $4.00

DON'T HAVE A PAYPAL ACCOUNT? WRITE ME TO FIND OUT WHAT
OTHER FORMS OF PAYMENT I CAN ACCEPT, at Tommyhawk1@AOL.COM!

Eighteen stories, two have two parts, for twenty in all. Sorry, fans, no illustrations in this book, many of the stories didn't lend themselves well to illustration and my fan commission writings nowadays are such that I can't spare the several hours of work that creating an illustration from my file images possible. I am charging $1.00 less for this book for that reason, the stories themselves are the same ones you have come to know and love.

Of these stories, seven are story ideas totally original by me, and the other thirteen were written by me on a "fan commission" basis (their idea, my story incorporating and fleshing out their ideas). Seven of these were for one fan I refer to as "PGG" who likes stories about one boy having sex with several men; these stories are longer than usual so I could flesh out the sex the boy has with each man better.) Two were done as "pre-stories" for my fan FG, whose story specs are such I do this pre-story to have a story for publication purposes. I did my best on these commissions, to make them as original and exciting as I could.

The stories in this book are:

A Super in the Family--Isaac's six-year-old little brother Bucky has developed super powers and it falls to 15-year-old Isaac to try to live his life while keeping his adoring and powerful little brother happy (and his powers a secret, too, of course). The trouble is, Bucky catches his big brother jerking off and this leads to some over-inquisitive activities. How can you handle a little brother who is many times more powerful than you in every way? My own story idea.

The King's Gift--My story written as a birthday gift for PGG. King Thomas' gift to his nine-year-old brother, Prince Brandon, was whatever he wished for and it falls to the hunkiest noblemen and subjects of the Realm to deliver the answer to the Prince's wish.

Big Brother Gets Married--Archie's big brother is getting married while on leave from the Marines and his civilian buddies from high school are preparing his bachelor party. They want Archie to help them with the joke, he is to be the one who jumps out of the party cake instead of a stripper! But this leads to some unexpected developments. A PGG story.

Timmy's Evil Lair--Timmy's Dad is one of Hyperman's biggest villains, but Dad is now in jail. Timmy goes to his father's evil lair to find that one of Dad's traps have caught Hyperman who had found the evil lair, so it's up to Timmy to deliver his father's revenge. My own story.

The Budgy Smugglers--Mario and his son Bobby are on vacation in South Beach, Florida and wearing "budgy smugglers" for the first time, but those too-brief swimsuits don't hide it when young Bobby gets aroused by watching the hunks on the beach. Turns out that little Bobby is very well hung. An FG story idea written my own way.

Think Horses--A young boy in the hospital has a puzzling incurable illness and the staff decide to throw this boy a party in his last days, but the boy's last wishes for that party are unusual to say the least! Something is going on here, and the intern helping plan the party has something up his sleeve for the main event. A PGG story.

Birthday in the Mountains--For his tenth birthday, Brandon's father has taken him to the mountains for a multi-day summer vacation with Brandon's friends and some of Dad's hunkiest fellow construction workers in attendance, for a birthday Brandon will never forget. PGG's self-birthday gift to himself.

Twins are Never Alike--Jason's parents are out of the country for two weeks, and his older sister has plans for those days she is playing babysitter, which involve the identical Hudson Twins, Gary and Barry, staying with them. While Sis is getting too close to Gary, Barry and Jason get their own thing going. But is the guy in Jason's bed Barry or his brother? Jason finds out that twins may look alike, but that doesn't make them interchangeable. My own story idea.

The Avengers: The Stone of Seduction--Bradley's Science Fair prize was a visit to the Avenger's Tower to spend time with the superheroes, but when Bradley gets hold of a stone with unknown powers, the Avengers find out for the first time what that stone of power actually does. A PGG fan-fic story.

The Joy of Ken--A two-part story. Drake has finally gotten partial custody of his long-lost son Ken who is spending six weeks with him during the summer and he is getting to know the boy for the first time ever. Turns out Ken is a boy who sleeps very heavy and is impossible to wake during the night and Drake finds his love for the boy has sexual components. He takes to enjoying the boy's body during the night, but there comes a night when Ken wakes up.... An LG story.

The 3:20 Train--Trevor's dad picks his son up from school, only to learn that doing so means they are stuck daily waiting for a very slow train to pass in front of them on the road, and they develop fun things to do while they wait for the train to creep by. My own story.

Military Cooperation--Marshall's dad is a film and commercial producer who has a commission from the Department of Defense to do a commercial for the various armed services pointing out the virtues of cooperation among the various branches. This means that each branch has sent their most photogenic (handsome, hunky and muscular) men to star in the commercial and they're all staying the week at Marshall's house! These men learn their own version of military cooperation when it comes to Marshall. A PGG story.

Wear Him Out--Buck's son Hed (short for "Hedrick") is a young boy with way too much energy, and he keeps his father awake too much at night. Buck needs a way to deal with this, and a barfly advises Buck to find a way to wear the boy out before bedtime. An FG story idea written my own way.

The Devil's Pool--Inspired by the Australian landmark, the pool springs from out of the ground to form its own stream, and the source of all this water is a mystery. One over-confident boy determines to dive down and see where the spring comes from, to find the answer is more than a simple volcanic vent. My own story.

Son of a Son of a Sailor--Dick's Grandpa was a sailor who loves the ocean so much he books them on a passenger freighter to Hawaii and Dick gets to spend some one-on-one time with the crew and learns his own love of life on the water. A PGG story.

Grandpa Titan--Young Buster's grandpa is named "Titan" and he fits the name well, for he is a muscled powerhouse of a man even at his age, and he and Buster spend time on Titan's farm and Buster learns the virtues of living the rural life. An XPR story.

The Magic Gloves--In the 1930's, Toby's father runs a vaudeville theater and one of the acts, Mozmo the Magician, is Toby's best friend. When Mozmo is killed one day, Toby finds himself the owner of Mozmo's gloves, which turn out to have been the source of Mozmo's powers as a magician. My own story.

Elysium Fields--A two-part story. When Todd's mother abandons him and his father, they move to a self-contained colony on the ocean, Elysium Fields, which practices nudism as a lifestyle, and Todd and his father get closer as they fit in to the colony's community. An LG story.

You can pay for this book by using your credit card. To Buy the Book,
CLICK HERE
Or you can pay for this book by mailing cash (US Dollars, sorry, I can't accept foreign currency, money orders or checks for this small an amount) to:

Milford Slabaugh
4601 Lexington Avenue, Apt. 208
Los Angeles, California 90029

You can e-mail me as well when you mail it and I'll be watching for the payment, and be sure to provide me with an e-mail address to send the book to you!