CLICK IMAGE
FOR A FREE
SAMPLE FROM
THIS BOOK!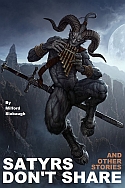 To Buy the Book, CLICK HERE
SATYRS DON'T SHARE (AND OTHER STORIES)
PRICE: $4.00

This book is a compilation of stories I wrote for several different fans. The title story is a five-part myth-based tale by a new fan I call "MG" for "Mythology Guy," and there are also works for "FG" of course, who loves to have his characters rub cocks while they swap spit like crazy (but plenty else for you to enjoy in his extra-long stories as well), "EG" or "Enhancement Guy" who craves magically enhanced bodies on his passives (I included some prior-published tales of these stories for completion's sake). To these, I have included a story I wrote for the fan of "The Captive Heart" book's stories, CG (Captive Guy), as well a singleton story written for another fan (nameless).

While there are none of my usual illustrations on/in this book, some of these stories are double or triple-length my usual style, and so these 20 stories (18 new and 2 reprinted for completeness' sake) compose a book of 404 pages, longer than my other offerings. When I was basing the story on a movie or comic book, I tried to keep the flavor of the original in this story...only with plenty of sex added and on the whole, I feel I have succeeded quite well in keeping these characters recognizable.

This eBook contains the following stories:

Satyrs Don't Share--A story in five parts written for MG. Melas is a young shepherd boy who encounters Kimos, a large, muscled satyr who promptly claims the youth as his own and with his magical pipes and his own sexual prowess, he takes the boy's every cherry. Melas runs home and his father Tydeus comforts him. Somehow, the love of this father and son is breaking the charm of Kimos' pipes! But Kimos will not surrender his chosen boy-love easily, because when a satyr claims someone, he doesn't believe in sharing!

A Captain America Birthday--An FG story, not about the superhero, but rather a boy whose birthday has an unexpected visitor, Captain America in person. His father has also returned from Afghanistan and somehow the two never show up to visit Cole at the same time...but both of them have lots of fun with our young hero.

The Best App Ever Stories--Five stories for EG,(one isn't quite on-point but it was so similar in details that I have included it here) about horny men who have a magical app for their phone, one which lets them select a young passive guy and change his body to suit their own lustful desires. One of these five appeared in an earlier book and is reprinted here for completeness' sake.

Rigellian Love--Our hero and his husband are humans who live on the planet Rigellia, a planet that was lost in the fall of the Empire of Man with only male humans available to repopulate. They are visited by two members of the Republic of Humanity who are curious about how this off-shoot of Mankind is coping with an all-male population. This story was initially intended for my tentacle book, but I wrote it to FG's tastes which required I add elements to make it only acceptable for Rogue Moon publication.

Dreams of Regneroth--Three stories (the first is a republication for completeness sake) of the odd demon known as Regneroth. Regneroth chooses a young victim and after body modifications (This is an EG storyline) Regneroth and one of the victim's family promptly lustily enjoys their hapless young man. Regneroth leaves, but the victim is left as he is for the other man's continued enjoyment.

The Winner of the Games--A story for CG (Captive Guy), this story tells of a set of yearly gladiatorial games of fights to the death, and the victor is never heard from again, but presumed to go to a life of unending luxury. Well, the answer is not what this victor was expecting, and he ends up the sexual plaything of the lord's son...until the next year's victor is crowned, that is.

Mr. Fantastic and Son: A Place of Our Own--A two-part FG story of Reed Richards and his powerful son Franklin as the boy demonstrates yet another remarkable power, he creates at a moment of stress a "pocket universe" where he and his father can spend as long as they want without time passing outside of this place, and they spend the time enjoying lovemaking marked by the use of their super powers.

Back to the Future Again--This story for FG tells of Marty McFly's antics in the year 1955, which weren't in the movies. He and his nerdy teenaged father George get busy as he coaxes his dad on the art of making love, and there's more fun when he returns to his new reality in 1985 and beyond.

Cyril's New Toy--My one-shot story for a (nameless) fan, it tells of a hefty construction worker and his son abandoned by the wife/mother, and they're left to make do, but when the father's towel falls away, young Cyril is very curious about this toy his dad packs between his legs and he's eager to play and Daddy enjoys the games as much as his son, if not more.

PAYMENT BY CREDIT CARD
CLICK HERE
Or you can pay for this book by sending cash (sorry, I can't accept money orders or checks for this small an amount) to:

Milford Slabaugh
4601 Lexington Avenue, Apt. 208
Los Angeles, California 90029

You can e-mail me as well when you mail it and I'll be watching for the payment, and be sure to provide me with an e-mail address for sending you the book.