CLICK IMAGE
TO LOOK
INSIDE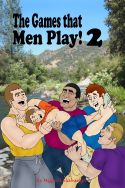 THE GAMES THAT MEN PLAY 2
PRICE: $5.00
Thirty short stories (with illustrations on twenty-three of them), about young boys and the men who enjoy teaching them about the fun they can have together, using only what the man has hanging between his legs. These eager boys are only too happy to play with that fat man-tool until the creamy goodness squirts out and our boy can gulp it all down, yum-yum! Whether it's a case of the man overbearing an innocent but willing boy or the man using gentle persuasion to get that kid to hold still while he shoves that hard dong up the boy's tender ass, everyone has a good time and the boy is only too happy to do it again soon as he can get that man alone again! Sometimes its a whole bunch of men enjoying this kid's favors, and in a few, Daddy gets in on the action as well!

The stories in this book are:


Beer for Daddy
The Candy Man
Little Boy Lost
The Amenities
The Toy Soldier
The Delivery Man
The Hitch-hiker
Kidnaped!
Opposites
Teacher's Visit
The Blitz
School Fundraiser
The Colored Handyman
Man in the Closet
The Substitute Princess
Castaways
Old Photographs
The Traveling Man
Winning a Noble Heart
The Wienie Man
Love in a Minor Key
Billy, the Unwanted Child
Golddigger
Handling Darryl's Tools
STOWAWAY TO THE STARS


Chapter One: Space Malaise
Chapter Two: Morale Officer
Chapter Three: Report to the Captain


Daddy's Poker Night
Clever Jack
The Christmas Kid


This eBook is in PDF format. Delivery of the eBook is by e-mail upon receipt of confirmation of payment. Please allow up to 24 hours for delivery; I'll send the eBook as soon as I can, but I'm a single person doing this, and I also work a full-time job.

You can pay for this book by using your credit card, but you have to be careful. To read more, click HERE.

Or you can pay for this book by sending cash (sorry, I can't accept money orders or checks for this small an amount) to:

Milford Slabaugh
4601 Lexington Avenue, Apt. 208
Los Angeles, California 90029

You can e-mail me as well when you mail it and I'll be watching for the payment, and be sure to provide me with an e-mail address for sending you the book.