CLICK IMAGE
FOR A FREE
SAMPLE FROM
THIS BOOK!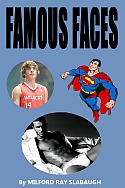 To Buy the Book, CLICK HERE
FAMOUS FACES
PRICE: $4.00

This book is a compilation of stories I wrote for different fans on a commission basis, all of these involve famous figures/characters (Zac Efron as Troy Bolton in "High School Musical," David Beckham, and DC's Superman, and all but one story involve dads having sexual fun with their young sons, the other story is man/boy sex not involving incest. It's hard to give you a simple explanation of the stories, including their length (they vary from single-shot short stories to multi-part novelettes), none of which have been published by me anywhere else before. I also have a single interior sexually explicit illustration to discover for yourself when you buy the book.

DISCLAIMER: I confess a certain discomfort offering these stories for sale, but so much of my writing time these past several months have been spent on these stories and more are to come in future, so it's either offer you these stories as they are, censor them heavily (and in the process destroy most of their sexual appeal), or keep them buried, so I have bitten my lower lip and published this book. These stories are fantasies with no basis in reality and I do not know these people personally, and have relied heavily on what I could discover about them online to flesh them out into something resembling the real thing.

This eBook is in PDF format. Delivery of the eBook is by e-mail upon receipt of confirmation of payment from Paypal. Please allow up to 24 hours for delivery; I'll send the eBook as soon as I can, but I'm a single person doing this, and I also work a full-time job. If you don't get the book by then, first check your Spam folder, or write me again with a different e-mail address I can use.

PAYMENT BY CREDIT CARD
CLICK HERE
Or you can pay for this book by sending cash (sorry, I can't accept money orders or checks for this small an amount) to:

Milford Slabaugh
4601 Lexington Avenue, Apt. 208
Los Angeles, California 90029

You can e-mail me as well when you mail it and I'll be watching for the payment, and be sure to provide me with an e-mail address for sending you the book.