CLICK IMAGE
FOR A FREE
SAMPLE FROM
THIS BOOK!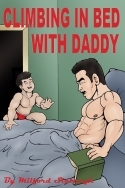 To Buy the Book, CLICK HERE
CLIMBING IN BED WITH DADDY
PRICE: $4.00

This book is a compilation of stories I wrote for one fan I refer to publicly as "FG" for "Frottage Guy." FG is a devoted customer of my works and I write two stories a month for him of fathers and sons enjoying sexual fun with each other. As his name suggests, FG wants every story to have some action being the two rubbing their cocks against each other and climaxing that way, so there's plenty of that in this book, but plenty of other sexual scenes (FG has an impressive list of specifications for his stories) to keep the casual reader happy.

These stories are double or triple-length my usual style, and so these 11 stories (10 new stories and one story reprinted because one of the new stories is a sequel to it) compose a book as long or longer than my other offerings. When I was basing the story on a movie or TV show, I tried to keep the flavor of the original in this story...only with plenty of sex added and on the whole, I feel I have succeeded quite well in keeping these characters recognizable and, in some cases, hilarious.

This eBook contains the following short stories:

Calming My Restless Son--Our hero's wife is being driven crazy by their son, a boy in a state of constant motion and incessant noise. Our hero offers to try to keep his son quiet while she rests and soon finds the best weapon he has to turning his son into a quietly happy, contented boy is the one between his legs.

Johnny Test: Johnny is Dad's Boytoy--Johnny Test is the victim of yet another one of his sisters' experiments when their Dad eats a cookie the girls intended for Gil; the eater falls madly in love with the first one he sees, and Dad catches his look at Johnny. Johnny has to keep Dad busy while the girls work on the antidote!

Kisses for Daddy and More Kisses for Daddy--The story from Rubbing With Daddy is here with its sequel, about a boy who just loves kissing his Daddy over and over and over...but soon learns that there are better places on Daddy to kiss besides the lips, to his father's pleasure.

The Simpsons: Bart Hits a Homer--Disgruntled newsmen give Kent Brockman a false news story, that NAMBLA is offering a $15 million prize to the man who can make the best love to son and the entire town goes boy-crazy. Homer wants to win bad, but it's Bart who has the secret to winning the prize.

Home Rivalry--Our hero is faced with the ultimate betrayal, his son has become a fan of his favorite's football (soccer) team's rival and is rooting for the other side as they watch TV. Their rivalry takes on a sexual element and soon they have a spirited series of bets with the winner and loser both enjoying the sex penalties they assign.

Sharing the Bathroom--Father and teenaged son must share the bathroom, but their sexual tension as they observe each other's naked bodies soon leads to doing more than looking and as they do, they grow much closer to each other.

After the Killer Flood--Based on a not-well-known made-for-TV movie, our hero and his adult-age son survive the flood that has washed their town and now they can enjoy their renewed bond of love with the loving joinings of their bodies.

Billy Elliot: Swan Lake at Evrington--Based on the movie, Billy comes home for the Christmas holiday and finds his father and big brother eager to share their new understanding and appreciation for their talented younger son/little brother and soon they have all three shared each other's bodies in every possible way.

Just Loving--My effort to check off the entire rather imposing list of sexual activities that FG loves in one story, so there's not a lot of plot in this story, but there's lots and lots of sex of every kind FG could imagine.

Only My Son Can Make Me Come--Our hero loves his wife but finds the sex unsatisfying; he can't climax with her anymore. But the sight of his teenaged son's young body excites him all the way to orgasm and beyond and after they discover all the ways they can pleasure each other, they figure out how to keep our hero's marriage alive and strong.

Sorry, there are no internal illustrations in this book, I just can't afford at this time to buy them, so the cover is it from now on.

This eBook is in PDF format. Delivery of the eBook is by e-mail upon receipt of confirmation of payment from Paypal. Please allow up to 24 hours for delivery; I'll send the eBook as soon as I can, but I'm a single person doing this, and I also work a full-time job. If you don't get the book by then, first check your Spam folder, or write me again with a different e-mail address I can use.

You can pay for this book by using your credit card, but you have to be ready to play along. To Buy the Book, CLICK HERE
Or you can pay for this book by sending cash (sorry, I can't accept money orders or checks for this small an amount) to:

Milford Slabaugh
4601 Lexington Avenue, Apt. 208
Los Angeles, California 90029

You can e-mail me as well when you mail it and I'll be watching for the payment, and be sure to provide me with an e-mail address for sending you the book.