CLICK IMAGE
TO LOOK
INSIDE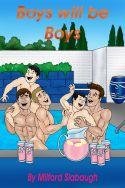 BOYS WILL BE BOYS
PRICE: $5.00
Thirty-one short stories (with illustrations on twenty-four of them) about boys and young teens having fun with other teens or older boys, all of these are from ages as young as six and as old as eighteen, but never above. Sometimes it's a family member, but usually it's a friend or in the case of older boys, of hot teens that are very willing to let a young boy get busy on his teeming teenaged dong and milk out that hot adolescent juice. These boys just love to work those hot hard cocks until they squirt a heaping helping of hot teenaged love-spunk!

The stories in this book are:


Joysticks
Bully
Campaigning for President
Cops and Robbers
Latchkey
Creepy Old House
Pokemon: Playing with Wingwangs
Be Mine
The Bet
The Babysitter, Part One
The Babysitter, Part Two
The Babysitter, Part Three
Magic Trick
Prince and Commoner
The Fifth Wheel
Hold on During Fire Drill
The Quest for Chocolate Bunnies
The Game of Fornication
Footlong
Waiting after School
The Frog Kings
No Girls Allowed!
The Resemblance
They Donít Give Merit Badges for This!
Snow Day
Superkid
Troubled Youth
Wrong Room
A Pair of Perfect Little Angels
The Thing in the Basement
Goodbye for the Summer


This eBook is in PDF format. Delivery of the eBook is by e-mail upon receipt of confirmation of payment. Please allow up to 24 hours for delivery; I'll send the eBook as soon as I can, but I'm a single person doing this, and I also work a full-time job.

You can pay for this book by using your credit card, but you have to be careful. To read more, click HERE.

Or you can pay for this book by sending cash (sorry, I can't accept money orders or checks for this small an amount) to:

Milford Slabaugh
4601 Lexington Avenue, Apt. 208
Los Angeles, California 90029

You can e-mail me as well when you mail it and I'll be watching for the payment, and be sure to provide me with an e-mail address for sending you the book.