CLICK IMAGE
TO LOOK
INSIDE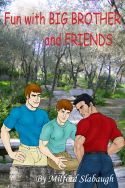 FUN WITH BIG BROTHER (AND FRIENDS)
PRICE: $5.00
Thirty short stories (with illustrations on more than half of them) about little boys (usually under age ten) who discover that playing with their much older big brothers is even more fun than they ever imagined...and Big Brother is only too happy to let his little brother handle the love-muscle between his legs. Little Brother just loves the creamy juice that Big Brother provides so much of! And sometimes, Big Brother's friends get into the fun as our hero grabs hold of all those happy fun-tools and really goes to town!

The stories in this book are:

Go Wake Up Your Brother
Brad Comes Home
Nocturnal Emissions
Pudge's Diet
The Bitch Seat
Like the Real Thing
Josh Gets Me Alone
Growing Giant Mushrooms
Rainy Weekend
The Rules of Craig's Room
Rejoined Halves
The Sleepover
Lesson Number One
Step-Brother
The Birthday Boy
The Search for Chametz
Fraternity Brothers
The Graduation Present
Replacing Trey
Birthday on the River
The Waterboy
Power Outage
Adventures in Fruit-Picking
The Ticket
What a Brother is For
Knots and Hitches
The Watch-Dog
We've Got Him!
Where's My Present?
Happy New Year, Big Brother!

This eBook is in PDF format. Delivery of the eBook is by e-mail upon receipt of confirmation of payment. Please allow up to 24 hours for delivery; I'll send the eBook as soon as I can, but I'm a single person doing this, and I also work a full-time job.

You can pay for this book by using your credit card, but you have to be careful. To read more, click HERE.

Or you can pay for this book by sending cash (sorry, I can't accept money orders or checks for this small an amount) to:

Milford Slabaugh
4601 Lexington Avenue, Apt. 208
Los Angeles, California 90029

You can e-mail me as well when you mail it and I'll be watching for the payment, and be sure to provide me with an e-mail address for sending you the book.